October 1, 2012
Baby Bumps and Books
Building Your Child's Library
Starting a home library for your child doesn't have to begin when children learn to walk or talk. The best time to start buying and reading books for a child is at conception, or at least as soon as you know a new family member is on the way. The best course of action to begin conditioning yourself and your little one for a lifetime of reading is to read to your baby bump.
If you are a first time parent or one with lots of experience, taking the time to read to a child will easily become a top priority for you. Here are three easy step to get you thinking about how to proceed in preparation for building a home library.
   1.      Research The Market
Visit your local library and speak with the librarians. You can also visit local bookstores and their associates, teachers can help or you can simply go online to see what books the experts are recommending. This can be a time consuming process, but its well worth it.
   2.      Low Cost Investment
Don't think you have to spend a lot of money right away. Some of the best books and parental feedback come from shopping at garage sales and second hand shops. At a garage sale, you can ask parents their opinions about the books they are purging. They will happily tell you all about the books their kids loved and even about the ones the kids didn't like. This is your opportunity to ask about the authors, characters and illustrations. Chances are you will walk away with inexpensive books that are in excellent condition and lots of other information about kids and books.
   3.      Condition The Reading Habit
Preparing your child's library isn't just about the books. Setting aside quality time for reading takes a little conditioning for you and your child. Start the process of getting into the habit by setting aside a certain time of the day for reading. For example, after dinner find a quiet spot and read out loud in a soft, soothing voice. Parents with small children can snuggle up on the sofa and read together. It's fun to let little ones point out the pictures and tell the story they see as well.
The gift of reading is the best gift any parent can give to a child. Reading opens up so many doors as your child develops and grows. There are so many places to get books new and used to start building a home library. By the time your baby is born she will already be conditioned to quietly cuddle and listen to you and a favorite story.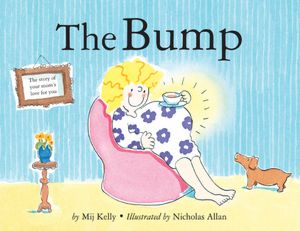 Title: The Bump
Author: Mij Kelly
Illustrator: Nicholas Allan
Publisher: Tiger Tales an Imprint of ME Media, LLC
Ages: 3 and up
ISBN: 9781589251076
Review:
When little ones ask where they come from, it may not be so easy to explain. This mommy has no trouble telling her little one how much he was loved and what happened when he first came to be. And its fun to remind your little ones that you had a different life before they came along.
"Then, all of a sudden, his heart gave a thump, when she looked in the mirror and noticed a bump."
This lovely yet funny story is a great first book for little ones and for new mommies. The bright colored pictures and cutesy rhyme make for a fun and curious read. Moms, dads and kids will enjoy reading and sharing this tale of a soon to be new addition. Visit www.tigertalesbooks.com
_____________
Kristi Bernard writes books for children. She also writes book reviews for Tiger Tales Books, The Children's Literature Comprehensive Database(CLCD), National Geographic Kids, Book Pleasures, Barnes & Nobles and various other outlets. Kristi has featured articles and book reviews at The National Writing For Children Center (NWFCC) in which she was a contributing editor, and has won contests for her writing. She is a member of the Society of Children's Book Writers and Illustrators (SCBWI) and the Association of  Children's Authors & Illustrators of Color (ACAIC). Her blogs are The Neophyte Writer (http://kristibernard.wordpress.com) – a writers journey, writing tips and author interviews and Kristi's Book Nook (http://kristisbooknook.blogspot.com) – book reviews, author promotions, and book giveaways.